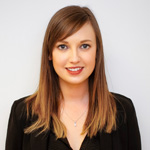 Jennifer McCarthy, a local of Mallow, is a graduate of BSc Speech and Language Therapy in University College Cork. She is dysphagia qualified and a Graduate Member of the Irish Association of Speech and Language Therapists (IASLT).
Since graduating, Jennifer has worked in a number of schools in Cork, providing therapy to children and adolescents with intellectual disabilities and autism. She has furthered her knowledge in the area of Alternative and Augmentative Communication (AAC), using communication methods like Lámh, and the Picture Exchange Communication System (PECS) with many of her clients. During her time in college, she gained clinical experience in a wide variety of settings including early intervention services, community paediatric clinics, adult rehabilitation services, a centre for people with acquired brain injury, and an acute care hospital. While in UCC, Jennifer was also an active member of the Clinical Therapies Society and the UCC Student's Union.
Jennifer is dedicated to continually improving her skills as a therapist and continuing her professional development. She is certified in Lámh Module 1, and attended the IASLT conference in Cork in 2012. She has conducted research into teachers' views on the role of the Speech and Language Therapist in schools for adolescents with mild intellectual disability. Jennifer is committed to establishing an open, client-centred environment, and providing a high quality service for her clients.