Physio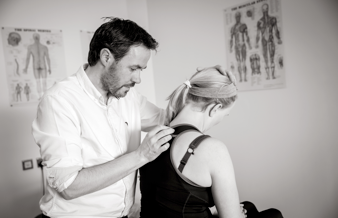 1- What is Physiotherapy?
Physiotherapy is a health profession concerned with helping to restore well-being to people following injury, pain or disability, using knowledge from our extensive scientific background of human anatomy and physiology.
Chartered Physiotherapists can help to:
• Assess, diagnose and treat conditions and illnesses that affect people in all ages and social groups
• Assist a patient to prevent injury in the workplace or on the sports field
• Promote healthier lifestyles for all
Chartered Physiotherapists use mainly physical means such as exercise, manipulation and mobilisation to help patients achieve their full potential.
Who do we help?
We help and treat patients from all age groups and all walks of life including;
• Premature babies to the elderly in Day Care Centres
• Sports' team members from a wide variety of levels and sports to treating injured workers aiming to preventing re-injury
• Educating women on ante natal care and fitness prior to childbirth to treating women who suffer from incontinence after childbirth or the menopause
2- What is a Chartered Physiotherapist?
The title "Physiotherapist" alone is not evidence of a formal qualification in physiotherapy. Chartered Physiotherapists are health professionals allied to the medical profession and have completed a four year university degree.
The governing body for Chartered Physiotherapists in Ireland is the Irish Society of Chartered Physiotherapists (ISCP). All Chartered Physiotherapists must complete continuous professional development and submit evidence of same to the ISCP annually, to ensure up to date knowledge and competence. All our team are members of the ISCP and fully insured.
1. General Physiotherapy Treatment:
​Musculoskeletal and sport injuries treatment
The term musculoskeletal dysfunction is used to describe a variety of ​conditions that affect the muscles, bones, and joints. The severity of the pain and discomfort can vary and may interfere with everyday activities. Musculoskeletal dysfunction is extremely common and your risk increases with age. Early ​diagnosis is the key to ease pain while potentially decreasing further bodily damage.
2. Dry Needling
Sinead uses dry needling as an adjunct to treatment. Dry needling is an effective treatment technique to address muscular tightness in combination with manual therapy and exercise prescription. See http://www.gemtinfo.com.au/what-is-trigger-point-dry-needling.html for more information.
3. Custom-made Insoles/Orthotics
Biomechanical problems can occasionally lead to pain in the feet, knees, hips and back. We can assess the different joints that may be causing problems and treat the dysfunction. And if necessary we can prescribe a custom made device which can correct and maintain the optimum position of your feet, which will treat this mechanical dysfunction and help prevent further injuries.
For more information call us on 025 52050 or email us at physiotherapy@livinghealth.ie